View of Beech Mountain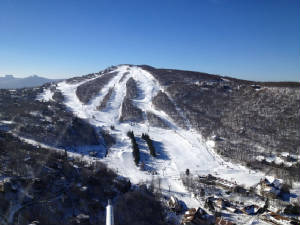 The Top of the Beech Inn is the Town of Beech Mountain's favorite ski lodge with a great view of the ski slopes, which are within a quarter mile walking distance. The Lodge offers 20 Rooms & 1 double size Suite with slopeside deck, all Rooms with private bath , 2 double Beds and Cable TV, wireless Internet. The Ski Resort offers complimentary shuttle service from the Inns to Ski Beech during Main Season (about 1 mile). Custom Ski packages including Discount Ski Tickets and Ski Rental are available.
.
Enjoy our lowest Rates for Lodging on Beech Mountain.
March Special $79.-/ night double occupancy
For weather forcast stay tuned at
..
Top of the Beech Inn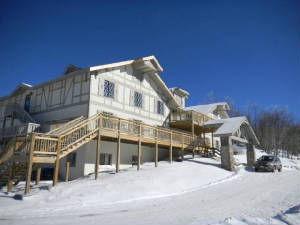 Loading Calendar
Top of the Beech Mountain Lodge Room Rates Ski Season 2013/2014:
All Rooms have 2 Double Beds, Private Bath, Cable TV, refrigerator , microwave & coffeemaker
Weekdays: Sunday through Thursday from $79.- per night Double Occup., Addit. Person $10 +Tax
Weekends:Friday and Saturday from $79.- per night Double Occupancy, Addit. Person $10.- + Tax
Holiday Rates: From $129 per night double Occupancy., Addit. Person $10.- + Tax
Christmas 12/20/2013 - 01/02/2014; MLK and Presidents day weekend
Booking on this website will generate an automatic discount of 10% for a 3- day stay or longer!
Groups of 6 Rooms or more: Please E- Mail Request Form for Price and Availability:
.
.
If you prefer staying in Chalets or Condos we have now
alpenrealty.com
available, which is located conveniently in the Top of the Beech Inn and Conference Center. Lovers of Log Homes will like this special new log home offer for max 8 or max 12 guests.
Click on picture for availability or easy booking.
.
.
Ski Tickets at Beech Mountain Resorts
Monday-Friday Non-Holiday
Lift Tickets
Regular Price
per person
$35
Holidays, Saturday & Sunday
Lift Tickets
Regular Price
per person
$63
Check skibeech.com for Holiday Schedule
Discount Coupons for Beech Meadows and Alpine Equipment Rentals are available.
- Ski Packages with Ski Ticket from Beech Meadows!
For detailed Slope Reports:
Ski Beech/ Beech Mountain Resort
Ski Sugar/Sugar Mountain Resort